Toy Story Mania is located in Pixar Place at Disney's Hollywood Studios. The 5 ½ minute attraction featuring characters from the beloved films opened on May 31, 2008 and quickly became wildly popular with all ages.  It's good idea to head there first thing in the morning or use a Fast Pass if you want to avoid a wait!

As you enter the queue, you will find yourself in a sea of large nostalgic toys including Chutes & Ladders, Scrabble, Crayola crayons, Viewmaster reels, Barrel of Monkeys and Tinkertoys. The waiting area is almost an attraction in itself as you're entertained by a giant audio-animatronic Mr. Potato Head that tells jokes and interacts with guests. Before boarding the ride, you will pick up a pair of 3-D glasses.
The ride vehicle is designed for 4 people in pairs but small children may ride with you. The vehicle is designed so 2 people are on each side, back to back. Customized cars are available for riders with special needs. The spring-action shooter shaped like a toy cannon has a string that you pull to shoot the targets in the game. The object is to hit as many targets as possible as you compete with friends for the highest points. Your carnival ride tram travels on a track through carnival midway games and spins as you travel between games.

There are five 30 second games that follow a practice round:
• Hamm & Eggs – egg throw game
• Rex and Trixie's Dino Darts – dart throw game
• Green Army Men Shoot Camp – baseball throw / plate breaking game
• Buzz Lightyear's Flying Tossers – ring toss game
• Woody's Rootin' Tootin' Shootin' Gallery – suction cup shooting game
At the very end, there is a bonus game, Woody's Bonus Roundup. You shoot at targets on rolling mine cars. A final target pops up and you shoot your cannon as quickly as possible to score mega points! The scores are displayed at the end showing the winner.
Make sure your family gets to experience Toy Story Mania at Disney's Hollywood Studios on your next Disney Vacation. It will surely be a highlight in your Disney day!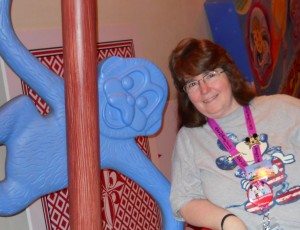 Written by Sheri Morris, "Main Street Morris" — Sheri is proud grandmother with a keen eye for detail. She specializes in Disney Travel for adults and RV travel.  Book your next vacation with Sheri at 804 405 5005 or at sheri@destinationsinflorida.com.