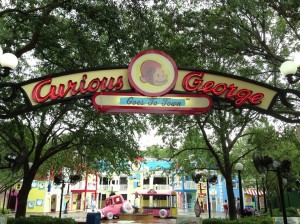 On your next visit to Universal Studios be sure to pack an extra set of clothes for the kids and stop by to see Curious George. This area in the back of Woody Woodpecker's KidZone is sure to be a hit with kids of all ages!
Someone has let all of the circus animals out of their trailer and turned the whole town upside down. What has that mischievous monkey gotten himself into this time? Now your children can join him on his adventures. Follow George's footsteps as a series of colorful storybooks highlight the pathways and add to the charm that is the Curious George book series.
This unique playground offers a variety of activities for children of all ages. Curious little ones can explore the colorful Animal Show tent with plenty of play activities for toddlers. Enter the town's cartoonish buildings and grab a pump, valve, hose or lever to spray (or drench) your friends with water. And head to the Man in the Big Yellow Hat's Ball Factory where you can throw, blast and launch thousands of soft foam balls at family and friends – and anyone else within reach.
Don't forget those extra clothes because kids can take aim with a water cannon at the town center's clock tower and fill a pair of 500-gallon buckets that periodically dump water in a spectacular splash on the street below.
Written By Jennifer Greene- "Vacation Wizard" with Destinations in Florida Travel. Jennifer is a Universal Parks and Resort Specialist, if you are ready to "Vacation Like You Mean It" contact her at jenniferg@destinationsinflorida.com today for a free quote.