Growing up I was actually a pretty picky eater, and I could be terribly stubborn when it came to trying new foods. However, as most things related to childhood, I did eventually outgrow my pickiness as well as my stubbornness about trying new things. When I found myself at the Belgium Kiosk at last year's Epcot Food and Wine Festival I decided to try something I had never had before, mussels. I never had anything against mussels, this wasn't about being picky or stubborn, no one in my family likes mussels so I was just never introduced to them. And, I mean the dish was mussels in a roasted garlic cream sauce! Seriously how bad could anything in a roasted garlic cream sauce be! And, it was seriously good! Although I do have to admit I'm still not sure if I liked the mussels themselves or the roasted garlic cream sauce that was covering the mussels, either way it was amazing! After I got home from last year's Food and Wine Festival I knew I wanted to try to make this dish again. But, I knew my family did not care for mussels so I was little unsure of what to do. Then, I decided I could make the roasted garlic cream sauce and just substitute the mussels for something my family does like, clams. And, the dish turned out just as amazing! Do not be scarred of this recipe! It is super easy, and you know what, if you don't like mussels or clams, make the sauce and put it over fish or shrimp, or if you do not like seafood try putting it on top of chicken or use as a pasta sauce, do what ever feels right to you. These recipes are not law, you do not have to follow them to the letter, if you want change something, go right ahead. That's one of the fun things about cooking, the experimenting! But, I am telling you, you have to try this one, it is so easy and really soooooooooo good!
Serves 4
Ingredients:
Roasted Garlic Puree
2 large heads garlic
1 tablespoon olive oil
If you want to make the roasted garlic puree from scratch, well then you are far better than me. I cheated when it came to the puree. I bought a jar of already chopped roasted garlic (that can usually be found in the produce section of your grocery store). I dumped the whole jar into a processor and just processed it until it was a puree. Then I just used the amount needed for the cream sauce and it turned out just fine. 
Roasted Garlic Cream Sauce
1 tablespoon olive oil
2 shallots minced
1/2 cup white wine
1 tablespoon lemon juice
2 cups heavy cream
2 tablespoons Roasted Garlic Puree
1/2 teaspoon coarse salt
1/4 teaspoon ground black pepper
Mussels (Clams)
4 pounds fresh mussels, scrubbed and de-bearded
1 cup dry white wine
1 cup water
4 thick slices sourdough bread, toasted
2 teaspoons chopped fresh parsley
2 teaspoons chopped fresh dill
2 teaspoons chopped fresh chives
Method of Preparation:
 For the roasted garlic puree: Unless you're like me and cheat with making the roasted garlic puree.
Preheat oven to 350ºF. Remove excess papery skin from garlic, keeping head intact. Cut top 1/4 off of garlic head, exposing the cloves. Place each head of garlic cut side up on an individual square of aluminum foil. Drizzle each with oil. Wrap in foil, sealing edges. Place pouch in oven, and roast for 45 minutes. Cool for 20 minutes, or until cool enough to handle. Squeeze garlic from skins into a small bowl. Discard skins. Mash garlic with a fork until smooth.
For the roasted garlic cream sauce:
Heat oil in a medium saucepan over medium heat. Add shallot, and cook until softened, about 3 minutes. Add wine and lemon juice, stirring to combine. Cook until reduced by half, stirring occasionally, about 5 minutes. Add cream, Roasted Garlic Puree, salt, and pepper, whisking to combine. Simmer (do not boil) until sauce is slightly thickened, about 4 to 5 minutes. Set aside. 
For the mussels: If you make this with clams instead follow the same cooking method.
If you make this with clams you want to make sure you clean the clams really well to ensure that you got rid of all the sand. I put my clams in strainer and just let water run over them for 10-minutes.
Place mussels, wine, and water in a large stockpot over high heat. Cover and bring to a boil.
Cook until mussels open, about 4 minutes. Remove and discard any mussels that do not open. Strain cooking liquid from mussels and discard liquid.
Place mussels in a large serving bowl, or in individual shallow bowls. Pour Roasted Garlic Cream Sauce over mussels, and garnish with parsley, dill, and chives. Serve immediately!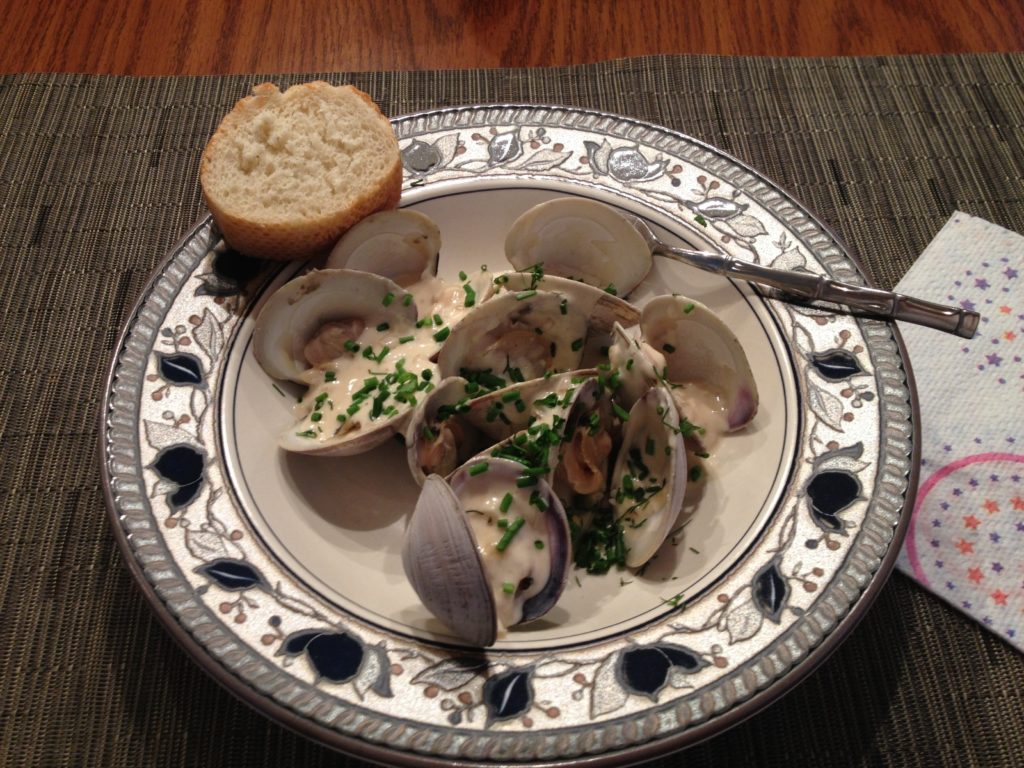 I served this with a crusty baguette instead of the sourdough toast, but feel free to serve with whatever you like! Now see that recipe wasn't so hard and I know you will enjoy this one as much as my family and I did! Their only complaint was that there was no more. As always just remember that anyone can bring a little Disney magic into his or her kitchen! All you need is a little faith, trust, and pinch of pixie dust, and the inside look I give you into the Disney recipes doesn't hurt! Have a magical meal!
If you have any questions, comments, or suggestions, I'm always happy to hear from you! And if you try this recipe let me know what you thought about it!
Written by Meghan Blair, the "Disney Foodie" — As a Florida Resident, Meghan combines her love of Disney and her love of food! She will give you the best restaurant and dining tips and suggestions to make your meals, just as magical as the rest of your vacation! Book your next vacation with Meghan at 954-328 -7090  or  meghan@destinationsinflorida.com.