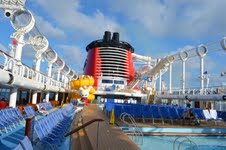 The Disney Imagineers have come up with some amazing ideas to make Disney Cruise Line stand out amongst its competitors.  Here's a list of ten things Disney Cruise Line did first:
Fireworks- Disney Cruise Line is the first and only cruise line to shoot fireworks at sea.  All of the fireworks are food based products so fish can enjoy the leftovers from the show.
Rotational Dining- Once onboard you will rotate between three themed restaurants on each ship.  Your servers and tablemates will rotate with you each night.
Magical Portholes-Inside staterooms become oceanview staterooms on the Disney Dream and Disney Fantasy.  Each inside stateroom features a magical porthole that gives you a real time view of the outside ship.  In addition to the view your favorite Disney character may pop up on the screen at any moment.  You never know who you will see on your magical porthole.
Free Soda & Wave Phones- You can access free soft drinks on the pool deck 24 hours a day.  You will also have access to wave phones to help you keep in touch with your family while onboard.
Premiere Movies- Movies premiere onboard the ship the same day they premiere in theatres (including Digital 3-D screenings so you get the full effect on seeing the movie on land).
Yellow Lifeboats- Orange did not fit into the Mickey theme of the ship so Disney received special permission to use yellow life boats on each of its ships.
Split Bathrooms- Shower/tub in one area while the toilet is separate.
Dock at Castaway Cay- Disney is the first cruise line to dock at their own private island.  It's much more convenient to just walk off the ship without having to tender.
Unbelievable Youth Spaces- There is almost an entire floor dedicated to youth activities for babies to pre-teens.  Disney is the first to also have dedicated youth spaces just for teens and tweens.
AquaDuck- This water coaster will take you 765 feet up, down, and around the side of the ship on the Disney Dream and Disney Fantasy.
Written by Shante Carson — Shante is a Disney Cruise Expert with over eight cruises taken on the Disney Dream, Disney Wonder, and Disney Fantasy.  Bon Voyage!  Shante is ready to help you plan your magical Disney Cruise vacation. Book your next vacation with Shante at 252-917-0497 or shante@destinationsinflorida.com.