At Magic Kingdom's new Be Our Guest Restaurant you get a dining experience straight out of the award-winning movie, complete with appearances from the Beast himself, and there's even grey stuff and it is delicious!
You are transported into the fantasy world of Beauty and the Beast from the moment you step onto the stone, gargoyle lined bridge that leads up to the castle.  Upon entering the castle you continue down a hallway lined with ominous looking suits of armor, pass through an archway and there you are in the Grand Ballroom! The ballroom is the largest of the three dining rooms that are offered at Be Our Guest.  The centerpiece of this room would have to be the beautifully painted ceiling adorned with winged cherubs and gorgeous yet massive chandeliers. However, what I found to be the coolest feature of this room was the massive picture windows that look out across a wonderful mountainous landscape.  Look closely out the windows and you will even see a lovely little snowfall. We had just been seated at our table, complete with rose-folded napkins, when we heard a booming voice making an announcement. It turns out the master was in tonight and would be receiving guests in his study. Then, all of a sudden we saw the Beast walk through Ballroom and into the West Wing before ending up in his study where he would be posing for photos and giving autographs. I found this completely exciting because I had no idea I would get to meet the Beast!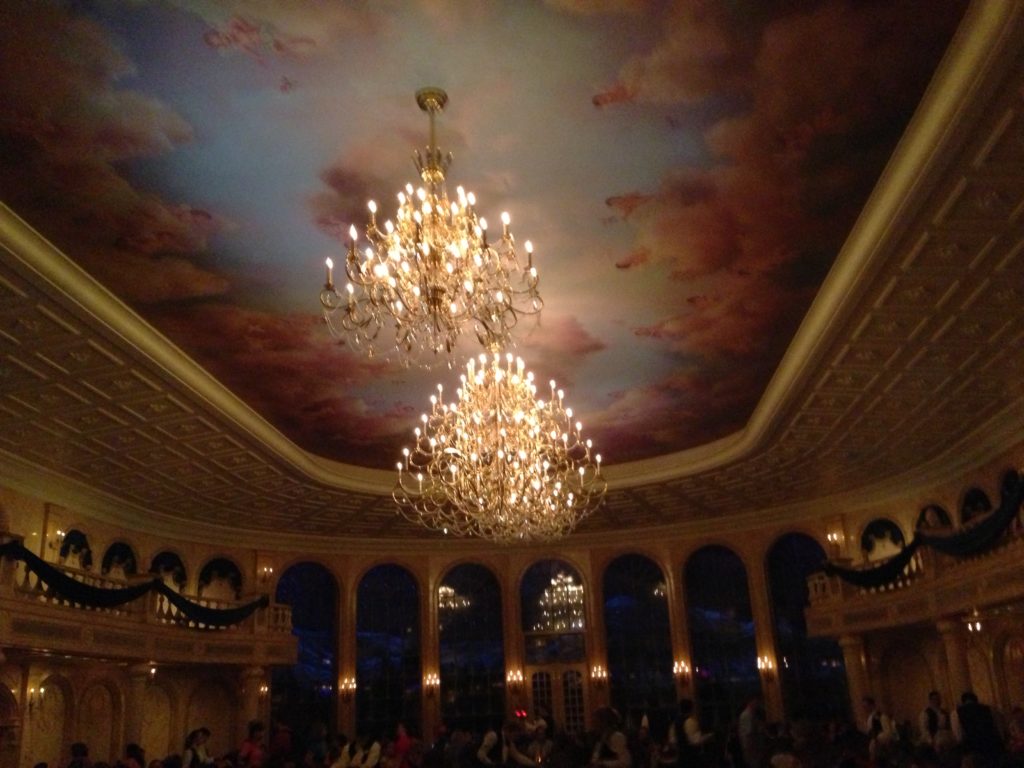 While we enjoyed our meal in the grand ballroom, I was encouraged to get up and take a look around. So I wandered around and found myself at the forbidden west wing! But, don't worry, it's not forbidden at Be Our Guest. The West Wing is the smallest of the three dining rooms in the restaurant, and the detail that the Disney imagineers put into this room is truly amazing! They even included the enchanted rose, complete with falling petals. As the petals fall from the rose you can hear a thunder and lighting storm rolling in. On one of the walls hangs a torn portrait of the Beast as a young prince. With each passing lighting strike you can see the prince morph into his more menacing form. As I was at Be Our Guest for dinner I did not have an opportunity to see the Rose Gallery, which is the only dinning room that is just opened for lunch.  However, I did have a friend that ate lunch here, so I can pass on her information about the Rose Gallery on to you!  In this dining room you will find tapestries, which feature the various characters of the movie, lining the walls. The centerpiece of this room would have to be the grand music box that features a rotating sculpture of Belle and the Beast that looks like it was taking right out of the movie's ballroom scene!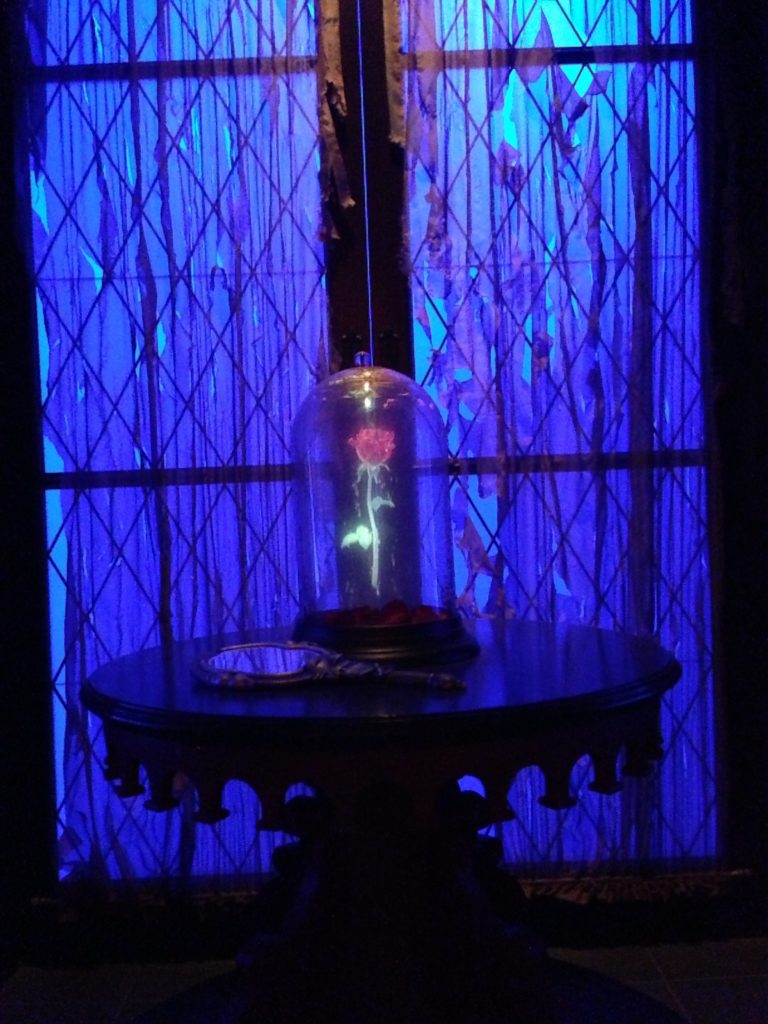 If I could only use one word to describe the food at Be Our Guest it would have to be AMAZING!!! This is one of the best meals I have ever had at Disney World. The menu features delicious French fare such as Mussels Steamed in White Wine and oven Baked Ratatouille, as well as many other delicious French inspired selections. I began my meal with the French Onion Soup, which came out bubbly with the Gruyere cheese looking perfect and tasted equally has fantastic. My mom decided to try the Garden Salad with Champagne Vinaigrette, and it was a wonderfully refreshing salad.  For the main course I ordered what I later learned was the signature dish of Be Our Guest, the Sautéed Shrimp and Scallops. The shrimp and scallops are sautéed in a rich lobster sauce and served with veggies inside of a puff pastry shell, and it was absolutely delicious. For her main course my mom decided to try the Rotisserie Cornish Hen.  The hen itself was perfectly golden and delicious and the White Wine Au Jus only added to the deliciousness. It was served with seasonal vegetables and roasted fingerling potatoes. After two amazing courses, we finally came to my favorite part of any dinner…DESSERT! I promise you dessert at Be Our Guest is worth every single calorie!  After the main course, every table is presented with the dessert cart. I dare anybody to say no to this dessert cart, which is filled with rows of delectable cupcakes and cream puffs. You can choose from three varieties of cupcakes, Triple Chocolate, Lemon Meringue, or Strawberry Cream Cheese or you can choose from three varieties of cream puffs, Passion Fruit, Lemon Raspberry, or Chocolate. Being the chocoholics that my mom and I are, we went for the Triple Chocolate cupcake and the Chocolate Cream Puff. The Triple Chocolate Cupcake consists of chocolate sponge cake, chocolate mousse filling, and is topped of with chocolate ganache. Rich and decadent do not even begin to describe this cupcake, but oh my gosh it was so AMAZINGLY GOOD! The Chocolate Cream Puff was equally delicious, it was more of an understated richness. It was sweet and chocolaty, the perfect little compliment to an amazing meal.  And, as I said before there is even grey stuff! Only those celebrating something special are lucky enough to try the cookies and cream whipped panna cotta, and from what I have heard it is indeed delicious!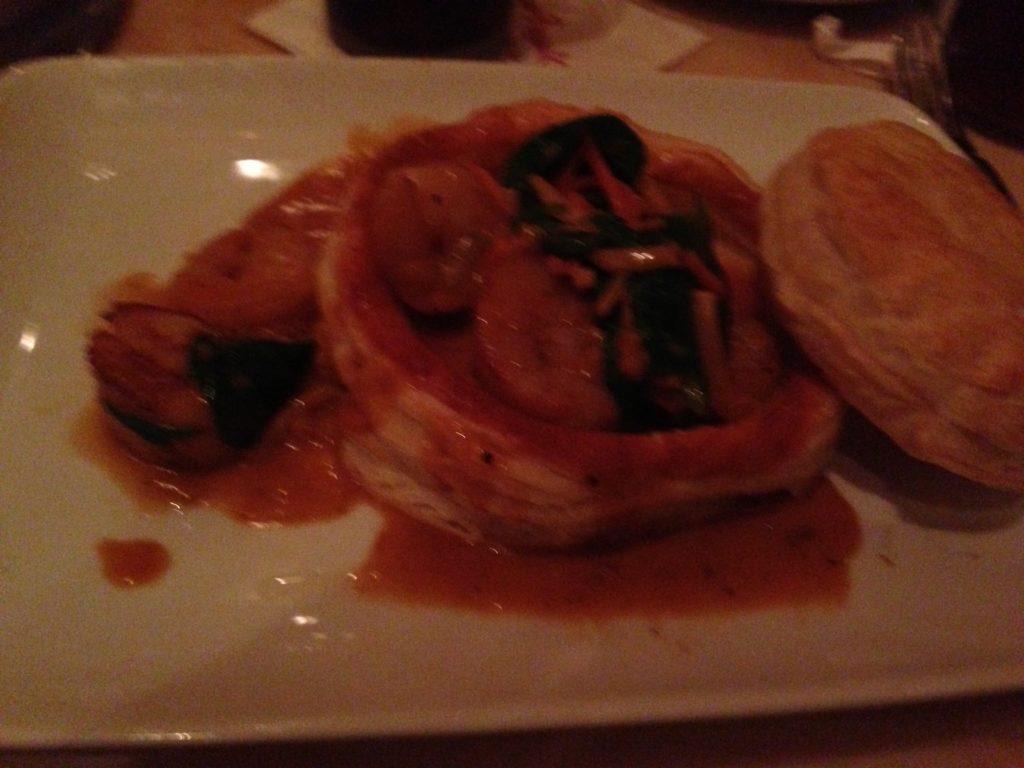 I cannot say that I was anything but, extremely impressed with Be Our Guest! The atmosphere was truly amazing. The imagineers left no detail untouched. I really felt like I walked straight into the Beauty and Beast movie. And, the food was equally spectacular. I think Be Our Guest is going to be a time-honored favorite for a long time to come! So as Lumiere would say, "Be our guest, be our guest. Put our service to the test!
If you would like to put Be Our Guest's service to the test please keep in mind that reservations are strongly recommended for Dinner and can be made up to 180 days prior to your visit.
Written by Meghan Blair, the "Disney Foodie" — As a Florida Resident, Meghan combines her love of Disney and her love of food! She will give you the best restaurant and dining tips and suggestions to make your meals, just as magical as the rest of your vacation! Book your next vacation with Meghan at 954-328 -7090  or  meghan@destinationsinflorida.com.