Sunshine Seasons is a great choice for quick service dining when visiting Epcot Center.  The restaurant is located in the Land Pavilion.  This is a perfect place to take a break from the park and enjoy a delicious meal or snack that won't break the bank.  The Land pavilion also houses three popular attractions:  Soarin', Living with the Land and Circle of Life.  The décor of Sunshine Seasons is crisp, clean and modern with a large dining area featuring comfortable seating.  It's open for breakfast, lunch and dinner.
There are four main stations for entrees: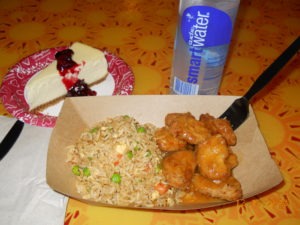 Sandwiches
Soup & Salads
Asian
The Grill
There is also an impressive bakery section and a great selection of grab and go items.  Children will be happy with the varied choices that are a step above normal.  Many menu items are made with fresh vegetables from the bounty of the Land Pavilion's greenhouses. A fill your own beverage station is conveniently located.

Highlights of the menu include Oak Grilled Rotisserie Chicken, Noodle Bowls and Stir Fry, Grilled Salmon, Caesar Salad with Oak Fired Chicken, Ginger Mongolian Beef, Turkey and Monterey Jack on Ciabatta, Oak Grilled Vegetable Flatbread and Roasted Beet and Goat Cheese Salad.  A delicious vegan option is the Orange Sesame Glazed Chick'n Chunks with Stir Fried Noodles.
Breakfast items include Breakfast Platters, Egg and Panini Sandwiches, Bakery items and Oatmeal.
Sunshine Seasons is a favorite of many and can be crowded at times.  Usually, the section furthest away from the cash registers is quieter.  It's the perfect place to unwind and have a yummy snack or a scrumptious meal.  There's something good for everyone!
Written by Sheri Morris, "Main Street Morris"  Sheri is a proud grandmother with a keen eye for detail. She specializes in Disney Travel for adults and RV travel.  Book your next vacation with Sheri at 804 405 5005 or at sheri@destinationsinflorida.com.