Breakfast is absolutely my favorite meal of the day. Which some would consider weird since I am totally not a morning person, but I love everything about breakfast. I especially love those lazy weekend mornings where the whole family gathers in the kitchen to make a big yummy breakfast full of eggs, bacon, hash browns, pancakes, and I could seriously go on and on! But, if I had to pick one breakfast item to be my absolute all time favorite breakfast food it would have to be Belgium waffles. A hot fresh Belgium waffle, some strawberries and whipped cream make me the happiest person in the world! So when I saw these waffles at the Epcot Food and Wine Festival last year I was super excited, in fact I was so excited I got two orders of the waffles! And, these waffles were so good, I knew I was going to have to make them as soon as I got home! However, once I got home life got in the way and I forgot about the amazing waffles I had at Epcot, but then I started this blog and I knew I needed to share this amazing recipe with you guys. So I made the waffles for the first this past weekend, and they were just as good as I remembered them. In fact they were so good that my dad, who does not even like waffles, asked for seconds! And, the recipe for the waffle batter and the berry compote was honestly so easy, everything came together 1-2-3!
Here is what you need for the waffle batter:
Belgian Waffles
2 1/2 cups all-purpose flour
2 tablespoons granulated sugar
1 teaspoon dry active yeast
1 1/2 cups water
1/2 cups milk
2 tablespoons beer
1 egg
1 tablespoon vanilla extract
1 stick butter, melted
Here is what you need for the berry compote:
Berry Compote
1 tablespoon cornstarch
1 tablespoon red wine (ok in all honesty you really don't need the red wine. You basically mix the red wine and the cornstarch together to make a thickening agent for the compote. So if you decide to make this recipe and do not have the red wine on hand and really don't want to spend the money on a bottle of wine for 1 tablespoon then you can definitely substitute water for the wine.)
1/2 cup apple, orange, or cranberry juice
1/4 cup sugar
1 teaspoon fresh lemon juice
1 cup fresh blueberries
1 cup fresh blackberries (my family doesn't like blackberries so I just didn't use them and I just substituted an extra 1/3 of cup each of the other berries. The beauty of this recipe is that you can really use whatever berries you want. You can take out berries you don't
like, add extra of the berries you do like, make the compote with all one berry, or just use whatever is in season, its totally up to you!)
1 cup chopped fresh strawberries
1 cup fresh raspberries
Method of Preparation:
For berry compote:
Combine cornstarch and red wine in a small bowl, stirring until cornstarch is dissolved. Set aside.
Combine fruit juice, sugar, and lemon juice in a small saucepan. Bring to a simmer. Add cornstarch mixture, blueberries, and blackberries. Cook 1 to 2 minutes, until berries are softened and mixture is thickened. Add strawberries, stirring to combine. Remove from heat, and gently fold in raspberries. Serve warm over Belgian waffles. 
For Belgian waffles:
Sift flour into a large bowl. Add sugar and yeast. Create a well in the center of mixture.
Add water, milk, beer, egg, and vanilla extract. Stir until mixture is just blended. (Don't worry if there are lumps; they will dissolve as the batter rests overnight.) Add melted butter, and stir until just incorporated. Refrigerate batter overnight. Bring mixture to room temperature. Ladle waffle batter into a Belgian waffle maker; cook according to manufacturer's instructions. My waffle maker only makes one waffle at a time. So in order to keep the waffles warm until we were ready to eat, I just placed the finished waffles on a cookie sheet in a 225-degree oven so they would stay warm until we were ready for them. Serve warm with berry compote and whipped cream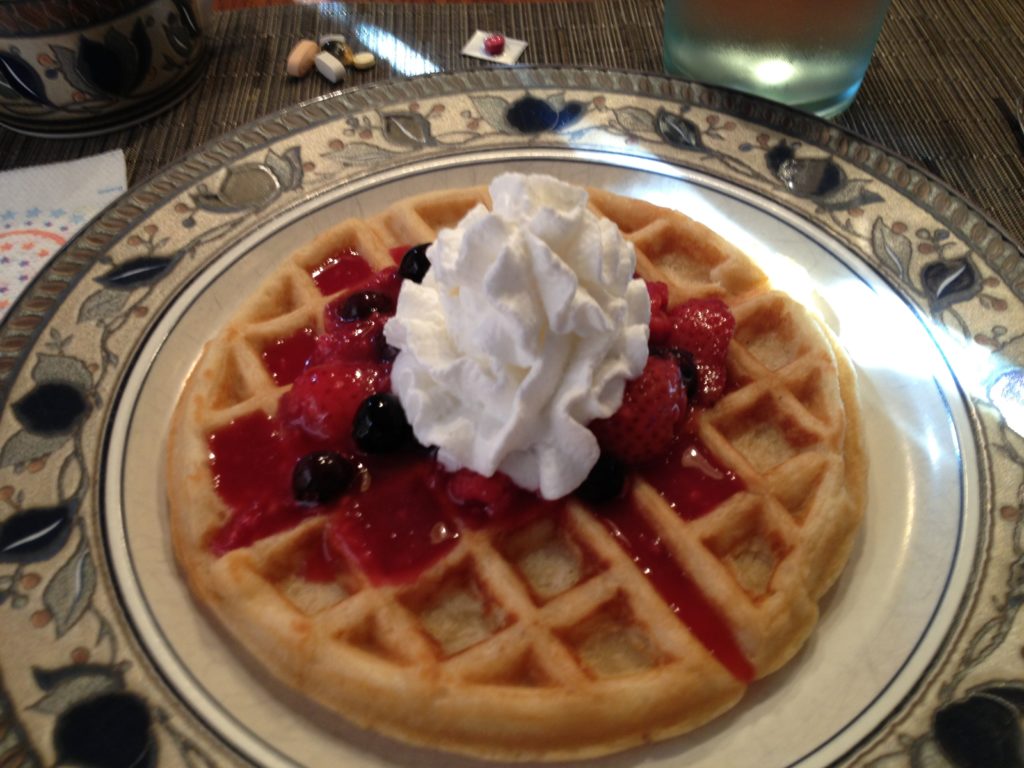 I am telling you, you will not be sorry when you try these waffles! Seriously what could be better on a Sunday morning then a glass of OJ and Belgium waffle covered in berries and whipped cream! This is my definition of heaven! And, just remember anyone can bring the magic of Disney into their kitchen, all you need is a little faith, trust, and a pinch of pixie dust! As always have a magical meal!
Written by Meghan Blair, the "Disney Foodie" — As a Florida Resident, Meghan combines her love of Disney and her love of food! She will give you the best restaurant and dining tips and suggestions to make your meals, just as magical as the rest of your vacation! 
Book your next vacation
 with Meghan at 
954-328 7090
 or 
meghan@destinationsinflorida.com
.