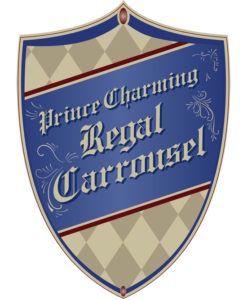 When Walt Disney's daughters were young, he enjoyed taking them to Griffith Park to ride the merry go round.  During one of these outings, he came up with the idea of creating Disneyland.  Walt envisioned a nice, clean place where parents and children could have fun together as a family.  The rest is history!
Prince Charming Regal Carrousel is a delightfully simple ride that children adore.  It measures 60 feet in diameter and features 90 ornately carved wooden horses, beautifully painted and decorated. Each horse is unique.  As an old fashioned organ plays Disney classic music, you'll spin round and round, enjoying the breeze and the simple thrill of the ride.  The carousel shines with 2,300 dazzling lights at night.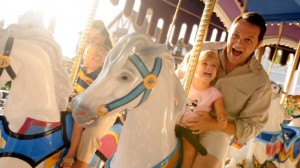 This attraction also features 18 hand painted vignettes from the Disney classic film, Cinderella.  It was once called Cinderella's Golden Carrousel but the name changed to Prince Charming Regal Carrousel on June 1, 2010.  Some say that one of the horses on the carousel is "Cinderella's horse.  However, Cinderella was not shown on a horse at any time in the film!
Originally built in 1917 by the Philadelphia Toboggan Company, it was called the Liberty Carrousel at Belle Isle Park in Detroit.  When found again in 1967 at Olympic Park in New Jersey, it was purchased by Disney. The merry go round received an extensive renovation and was placed in the Magic Kingdom at Walt Disney World in 1971.
It's been said that we should enjoy the simple things in life.  Take a ride on Prince Charming Regal Carrousel and bring out the kid in you!
Written by Sheri Morris, "Main Street Morris"  Sheri is a proud grandmother with a keen eye for detail. She specializes in Disney Travel for adults and RV travel.  Book your next vacation with Sheri at 804 405 5005 or at sheri@destinationsinflorida.com.