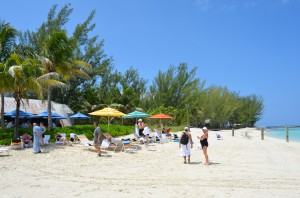 The best part of taking your family on a Disney Cruise is that there is fun for everyone. All of the kids will be busy with all of the incredible youth activities onboard.  No need to worry there are lots of activities for the adults too.
Adult Only Spaces:  It's easier than you think to find a nice, quiet, kid-free zone on a Disney Cruise.  The Quiet Cove Pool and Cove Café are the adult only areas on the pool deck.  There are two whirlpool spas and a poolside bar available.  Palo (Italian cuisine) and Remy (French cuisine) are both adult only fine dining options.  Serenity Bay is the adult only beach at Castaway Cay. The Senses Spa & Salon is reserved for adult guests.  Disney also offers adult only port adventures.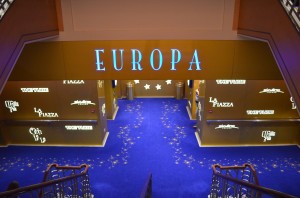 Entertainment Districts:  Europa and Route 66 are the adult entertainment areas.  Each district has uniquely themed nightclubs, lounges, and bars.  Skyline is my favorite bar.  Skyline has 7 huge LCD screens behind the bar that give guests a view of some of the world's most beautiful cities.  The skyline changes every 15 minutes and the drinks are based on each city.  I recommend purchasing the Passport to Skyline.  It costs $59, includes seven drinks, and you can keep the booklet as a souvenir.  There are activities for the adults throughout the day and late into the night. You can find adult only cabarets from the main show performers, game shows, trivia contests, and dance parties. The Quest and Match Your Mate are two crowd favorites. The Quest is an adult scavenger hunt.  Match Your Mate is the cruise version of the newlywed game.  Three couples are selected from the audience (get there early if you want to be one of the couples).  The show is always hilarious.
Beverage Seminars: Do you enjoy wine, tequila, champagne, martinis, margaritas, beer, whiskey, or cognac?  Whether you choose one or all of the above there is a tasting onboard for you.  All of the seminars charge a fee ($15-$30). Guests can reserve a spot for each tasting at guest services.  In addition to a few drinks, you will also learn the basics about each beverage so you can show off your knowledge when you get home.
Written by Shante Carson — Shante is a Disney Cruise Expert with over eight cruises taken on the Disney Dream, Disney Wonder, and Disney Fantasy.  Bon Voyage!  Shante is ready to help you plan your magical Disney Cruise vacation. Book your next vacation with Shante at 252-917-0497 or shante@destinationsinflorida.com.