The 2013 Epcot Food and Wine Festival is right around the corner. So in honor of that I want to share with you some of my favorite recipes from past and present Food and Wine Festivals. I'm not sure if I have mentioned this before, but I LOVE chocolate! I admit it I am full blown chocoholic! And one of my favorite ways to indulge in my addiction is the flourless chocolate hazelnut cake from Italy at Epcot's Food and Wine Festival. This cake combines all the gooey fudgeyness of a brownie with the rich decadence of fudge and then adds a bit of crunch with the hazelnuts, this is really a chocolate lovers dream! And this recipe is really and truly so easy. If you can whisk up five simple ingredients in a bowl, then you will be able to master this cake. Even the most novice of bakers will be able to impress their friends and family with this dessert!
Ingredients
7 oz. semi-sweet chocolate, melted
1/4 cup sugar
1/3 cup butter
1/2 cup finely chopped hazelnuts
5 eggs
1/4 cup cocoa
Method
1.Preheat oven to 220F and butter a 9-inch round cake pan.
* This step isn't necessary. But if you want to bring out the nuttiness of the hazelnuts, then you can toast the hazelnuts in a dry pan over a medium-low heat for five minutes. Like I said its not necessary, but it does bring a little something extra to the cake.
2. Melt the chocolate and butter together and stir in the hazelnuts.
3. In a large bowl, beat the sugar and eggs together until fluffy (If you're like me and I've no idea what the fluffy stage would look like, then I would suggest beating your eggs and sugar for 10-15 minutes. The eggs and sugar looked pretty fluffy at that point.) Fold chocolate and butter mixture into the eggs and blend just until all the ingredients are well-blended.
4. Pour into the prepared pan and bake for approximately 40 minutes or until the center is firm to the touch.
5. Allow to cool at room temperature and then refrigerate overnight.
6. To serve, unmold the cake and sprinkle the top with cocoa. (You could definitely top your cake with the cocoa, but whipped cream and/or powdered sugar works great as well!)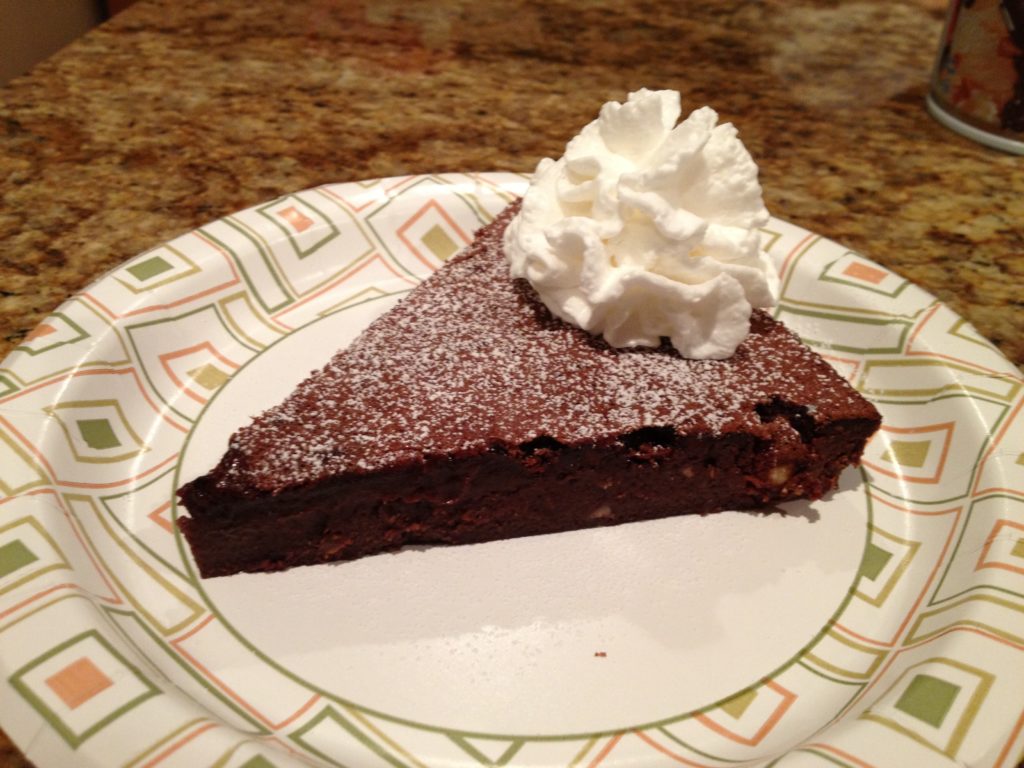 Written by Meghan Blair, the "Disney Foodie" — As a Florida Resident, Meghan combines her love of Disney and her love of food! She will give you the best restaurant and dining tips and suggestions to make your meals, just as magical as the rest of your vacation! Book your next vacation with Meghan at 954-328 7090 or meghan@destinationsinflorida.com.