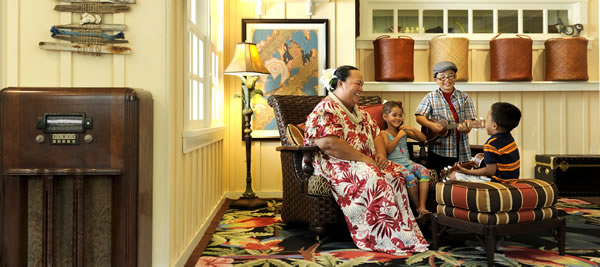 Let's go on an adventure to Aunty's Beach House at Disney's Aulani Resort in Hawaii. If you have any 3 to 12 year olds with you, you'll be making a visit to Aunty's Beach House for sure. It is 5200 Square Feet of Fun!  Once inside your kids will become a part of Aunty's O'hana (family).
Let's tell the cast members at check in what we're up to. No one gets in or out of this area without express permission and a signed agreement. These kids are their responsibility and they do not take it lightly. Be prepared to provide a safe word to get your kids out, as well as your kids wrist band to sign in and out with.  After a few days the cast members may know you, but that doesn't mean they will let up on the security. I for one appreciated knowing this.
If we look into the first room we see young boys and girls dressed in costumes acting out their favorite Disney movies. I see Sleeping Beauty and her Prince, Belle and Prince Adam, and much more. Some are even acting out on a the stage. Next to the stage is a grouping of electronic tables loaded with interactive games.
At the back of Aunty's Beach House is a "kitchen". This was where the kids do cooking classes, science experiments and play, with supervision of course. A Favorite activity is when the kids made Stitch's Space Goo. That was an experience in itself. Another day they made Flubber, which personally I think was the same as Stitch's Space Goo but a new color is all. You can also experience Eruption Disruption Volcanic Science.
Your kids can learn some of the local Hawaiian arts and crafts making. Create their own lei, or a pupu shell necklace. Local artisans spent time teaching the staff how to continue the old traditions of jewelry and ornamentation making. Let your kids learn these long held traditions in the safety of Aunty's Beach House!
Aunty's Beach House offers a vast array of programs, most are complimentary, but a few are "premium" programs. For example, the Fish Are Friends program is a 3 hour long program that teaches kids how the animal specialists train, feed and take care of all the marine life located at Aulani. Included with the experience is a copy of the "Disney Oceans" DVD and other take away items. A Must do for any budding Marine Biologists.
Let me highlight some of the other programs quickly for you. Aunty's Beach House has Character Visits, Hula lessons, Story Time, Games, Hawaiian Learning Experiences, Mini-Canoe making and races, and so much more. There is so much to see and do at Aulani.
When Daniel isn't sharing Planning Tips about Disneyland he can be found planning Disney Vacations. Contact me today to book your first, next or best Disney Vacation.