Maybe your family would like to stay closer to home for your next vacation.  No worries because Adventures by Disney has amazing vacations right here in the U.S.
Have you been out west to see the Grand Canyon?  I'd love to take my family on Adventure by Disney's 8 days/7 nights vacation exploring the nature and history of great sites such as the Grand Canyon and Arches National Park.
Scratch one of the seven wonders of the natural world off your list- you'll be seeing it up close as a naturalist guide takes you off the beaten path on a privately guided tour of the South Rim of the Grand Canyon.
Explore the amazing mesas of Monument Valley with your very own Navajo-guided excursion in your off-road vehicle.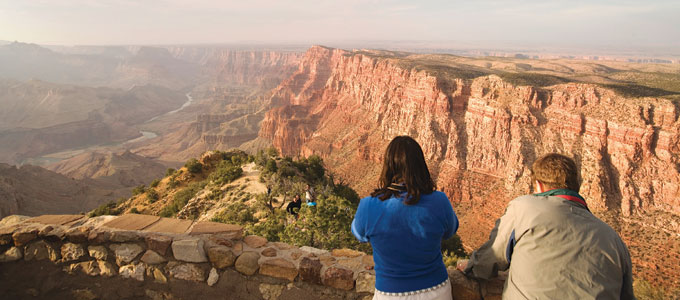 Do you remember the beginning of Indiana Jones and the Last Crusade?  Arches National Park is where they filmed the bit with young Indiana Jones!  And you'll be right there discovering Arches National Park and hiking to it's crown jewel, the Delicate Arch.
You'll finish your trip with an exciting yet leisurely Colorado River rafter adventure, I can't wait for that!  Then enjoy a down-home cookout with a real cowboy!  Ready to book your Adventure by Disney?  Contact Diana today at diana@destinationsinflorida.com
Written by Diana Edgar — Diana is an Adventures by Disney Expert on United States trips and around the world.  Are you ready for that once-in-a-lifetime vacation?  Diana is ready to help you plan your magical Disney vacation. Book your next vacation with Diana at diana@destinationsinflorida.com