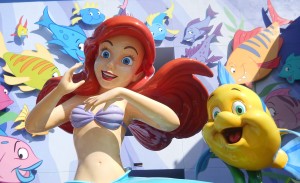 If you are trying to plan a honeymoon within a budget, you can still have a great honeymoon at Disney World. The Walt Disney World Resort offers three categories of resorts. The best value resort for honeymoons is the new Art of Animation Resort.
Disney's Art of Animation Resort is the newest resort at Walt Disney World. This value resort offers standard rooms that accommodate up to 4 as well as family suites that accommodate up to 6. All of the standard rooms have a Little Mermaid theme and are in their own section of the resort. Although it is a bit of a walk from the main lobby, you will be a little more secluded. The larger families will be in the family suites and focusing on the center pool. Back in the Little Mermaid section, you should be able to avoid quite a bit of the noise and crowds. There is still a pool nearby though, the Flippin' Fins Pool,  which features the "Under the Sea Orchestra" conducted by Sebastian. The resort also has a food court called Landscape of Flavors which serves breakfast, lunch and dinner daily. Landscape of Flavors also features 5 distinctive food shops that serve fresh, made-to-order cuisine.
At the reasonable prices for your resort, you will be able to splurge on the "extras" on your honeymoon for those fancy dinners, souvenirs, or maybe even a portrait session!
Would you like more information on a Disney World honeymoon? Contact Siera at siera@destinationsinflorida.com!
Written by Siera Duiser, "Disney BridalEars" — Siera has grown up loving all things Disney!  She even had her very own Disney Fairytale Wedding in 2011. Now Siera enjoys Disney World with her own family.  Siera specializes in Disney weddings, honeymoons, and traveling with younger children.  Book your next vacation with Siera at siera@destinationsinflorida.com.