I thought Universal Orlando's Islands of Adventure was strictly for thrill seekers and Harry Potter Fans, I was mistaken. In plain sight is a whimsical area called Seuss Landing. It is vibrant, bright and cheery. The kids will also be familiar with many of the attractions if they have read the Dr Seuss books. Any child could spend quite a bit of time exploring and playing while other family members may be off riding The Hulk.
In Seuss Landing you will find 5 attractions to keep the little ones entertained: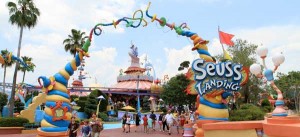 The High In the Sky Trolley Ride is a slow trolley ride that gives you a view high atop Seuss Landing, be sure to ride both colors as they show different things around the area

The Cat in the Hat is a "Tilt-a-Whirl" type ride.  The story of the Cat in the Hat is played out in cars that spin round and round. (warning: if your child gets motion sick you may want to skip this one)
One Fish Two Fish is a mild ride, you control the motion of the fish (up and down) while trying to avoid the water being shot at you from squirt posts.
The Caro-Seuss-el is beautifully designed interactive carousel featuring characters from several Seuss storybooks. The ride has ample seats, some move and some are stationary.
If I Ran the Zoo is an interactive playground for children, sure to let them get out some of that energy
A tip when you are visiting Seuss Landing: the bright colors in this particular area of the park reflect quite a bit of sun.  BE SURE to wear LOTS of sun block.  Bring waterproof sun block for kids, as the area has a few water attractions and I am sure they won't be able to resist them on a hot summer day.
If you would like to take a break from the sun step inside the Circus McGurkus Cafe, there you can refill your drinks, grab a snack or just enjoy the air-conditioning and watching the trolley pass by above you.  Don't let the thrill rides scare you away from Islands of Adventure with small children, there is plenty for them to experience as well.
 Written by Jennifer Greene-Vacation Wizard Jennifer is a Universal Specialist with Destinations in Florida, If you are ready to "Vacation Like You Mean It" then contact her today for a free quote for your next Universal Adventure or Disney Vacation at jenniferg@destinationsinflorida.com or 443-424-0181