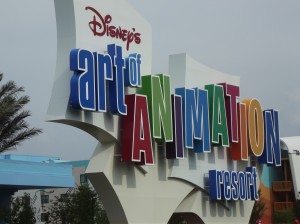 The Art of Animation Resort was designed with families in mind!  It's located in the ESPN Wild World of Sports area of the Disney property.
This resort was originally planned to be part of Disney's Pop Century Resort.  It was going to be called "The Legendary Years" but the project was abandoned after the decrease in tourism after the September 11 attacks.
Disney saw the need to cater to families that wanted value and needed more space than standard rooms allow.  Walt Disney himself began with a drawing of a little mouse so it seems perfect to design a resort around the concept of art!  The resort now offers 1,120 family suites that are themed around the Disney feature films, Finding Nemo, Cars, and The Lion King.  The suites each sleep six people and have a kitchenette, 2 bathrooms, a master bedroom and 3 sleeping areas.  One new feature at this resort is the "Inovabed", a table that converts to a bed. There are 864 standard guest rooms in The Little Mermaid building.  Rates for standard rooms begin at $118.00.  A bridge connects Pop Century to the Finding Nemo section of the resort making easy access to both resorts.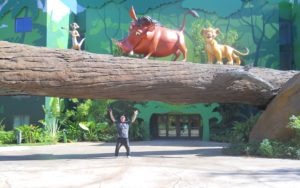 The courtyards are amazing and provide fantastic and fun photo opportunities!  Giant icons of favorite film characters are bright and colorful.  There are three swimming pools but the main one, The Big Blue Pool is the largest on Disney property!  It features underwater speakers and an interactive water play area for the little ones.
The main hub of the resort is called Animation Hall where check-in, dining and arcades are located. Dining options include the Landscape of Flavors food court featuring 5 sections offering American favorites and international fare.  There's something for everyone and the food is fresh and tasty.  Pizza delivery is also available.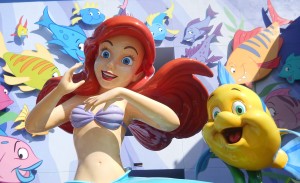 Your family will love the fun atmosphere and colorful, detailed themes at Disney's Art of Animation. Consider it for your next Disney vacation!
Written by Sheri Morris, "Main Street Morris"   Sheri is proud grandmother with a keen eye for detail. She specializes in Disney Travel for adults and RV travel.  Book your next vacation with Sheri at 804 405 5005 or at sheri@destinationsinflorida.com.