I love the Pirates of the Caribbean movies but I really love being a Pirate IN the Caribbean.  Pirate Night takes place one evening on every Disney Cruise.   You will find a Pirates IN the Caribbean bandana and some gold coins (chocolate) in your stateroom before the festivities begin.  But why stop at a bandana? Many guests bring costumes or purchase additional items in the gift shop. Here are some of the experiences you can look forward to on Pirate Night:
Themed Dinner- All of the restaurants will be pirate themed for the evening. When you arrive at dinner all of the wait staff will be decked out in pirate gear.  If you are seated in Animator's Palate on Pirate Night, there will be pirate photos on all of the screens throughout the restaurant.  Traditional menus will be replaced with treasure map menus. I recommend Black Beard's Jumbo Crab Cake, Jack Sparrow's Barbecue Marinated Beef Short Ribs, and the Johnny Cake.
Character Appearances- Check your personal navigator for the location of your favorite characters.  All of the characters will be dressed in pirate costumes.  Pirate Mickey, Minnie, Donald, Daisy, and Goofy usually make a couple appearances.  You may also see Captain Hook, Mr. Smee, Chip, Dale, Stitch, Peter Pan, Jake- The Neverland Pirate, and Captain Jack Sparrow.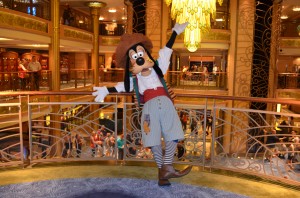 Deck Party- Join Captain Mickey and his crew on the pool deck for a Pirate Celebration. There will be games, music, and a stage show.  Make sure you get there early to find a good viewing spot.  The show is kid friendly but you may want to hug your little one a bit closer when Captain Hook tries to take over the ship. Let them know there's no need to worry because Captain Mickey will save the day!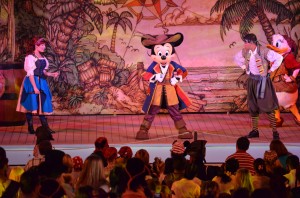 Fireworks- My favorite part of Pirate Night is the Buccanneer Blast Fireworks. Disney Cruise Line is the only one in the world that has fireworks at sea. It is such an amazing experience to watch as the sky lights up over the ocean!
Written by Shante Carson — Shante is a Disney Cruise Expert with over eight cruises taken on the Disney Dream, Disney Wonder, and Disney Fantasy.  Bon Voyage!  Shante is ready to help you plan your magical Disney Cruise vacation. Book your next vacation with Shante at 252-917-0497 or shante@destinationsinflorida.com.