I am so excited about this Adventure by Disney.  It totally captures my imagination with visions of fairy tales and romantic Germany.
You will start your 9 night/8 day family vacation in Frankfurt, Germany, where an Adventures by Disney representative will meet you at the airport to take you to your hotel, the Crown Plaza Heidleberg.
Begin your sightseeing the next morning with the majestic ruins of this incredible red-stone castle, once a fortress and the home of royalty. Tour the castle with your Adventure Guides as well as a local expert and meet some surprise guest characters from the castle's past!
Did you ever think that you would meet the Brothers Grimm?  Well, you will when your Adventures by Disney, heads to Alsfeld.  You will tour this amazing medieval town with the brothers, while they talk about their lives and tell you the stories that they wrote right in that town.  I'm already to pack my bags for this trip and it's only the 2nd day!  For lunch, Enjoy a picnic in the courtyard of the delightful Alsfed Museum. Like a gingerbread house from a fairytale, this timber-frame museum is classic old German architecture. Before lunch, Little Red Riding Hood will tell you her own story.From Alsfeld, you will travel through the countryside to the town of Waldeck, where your very own castle hotel awaits!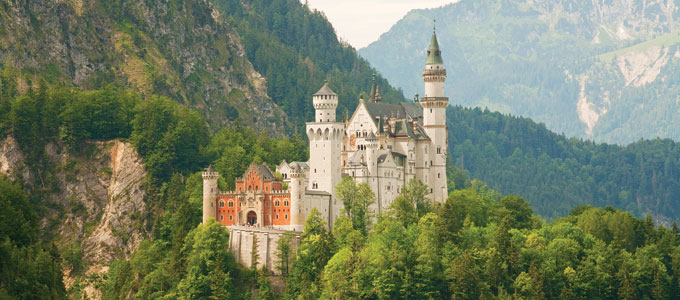 The next day is a quiet day in the picturesque German countryside.  The morning starts with a guided, private bicycle tour of trails surrounding Lake Edersee. You'll also see the charming countryside aboard a sightseeing ferry.  You'll spend the afternoon learning archery from a local expert and have time to walk the grounds of the hotel on your own.
If this trip wasn't amazing enough, hold on, it gets better.  On day 5, your family will journey to Löwenburg Castle created by Landgrave Wilhelm IX, known as the Walt Disney of his era! Enjoy a "royal" welcome when a German princess rolls out the red carpet and greets you at the castle. Follow the princess on a tour of the castle complex and its grounds.  See firsthand the amazingly decorated medieval, Renaissance and baroque rooms and the weapons room with its famous Black Knight suit of armor, and Gothic-style chapel. You will have lunch in the beautiful manor house that once fed the sovereigns at the nearby castle.
After lunch you are off to Rothenburg, where that evening the Night Watchman will lead you by lamp light through the town as he regale you with legends, make pretzels in the town's oldest bakery, Striffler Bakery, then tour the world famous Steiff Bear Museum in Giegen, followed by a hands- on bear activity. followed by a walking tour of Munich.
Now this is what I have been waiting this whole trip to tell you about!  The castle of King Ludwig II, Walt Disney's inspiration for Sleeping Beauty's Castle!  Yes, a tour of this amazing castle.  After your tour, your family will take a relaxing horse-drawn carriage ride through the German countryside to the historic Hotel Muller Hohenschwangau. As you dine, you're treated to a stunning view of Neuschwanstein Castle.
To book this stunning Adventures by Disney, contact Diana today at diana@destinatinsinflorida.com.
Written by Diana Edgar — Diana is an Adventures by Disney Expert on United States trips and around the world.  Are you ready for that once-in-a-lifetime vacation?  Diana is ready to help you plan your magical Disney vacation. Book your next vacation with Diana at diana@destinationsinflorida.com.