As the Disney Foodie I want to take you behind the scenes into the Disney kitchens and break down the magic behind some of our favorite Disney recipes. Anybody can be a Disney chef for a day, all you need is a little faith, trust, and maybe a pinch of pixie dust, so let's get started.
The recipe I picked to share with you today is the Beef Barley Soup from Le Cellier at the Canada Pavilion in Epcot. The whole process of making the soup was actually pretty straightforward. I had never made beef barely soup from scratch so I admit I was a little nervous. But, it ended up being quite easy. So I promise this is not a recipe to be afraid of! Besides I'm here to take you step by step through the whole process and even share a few pointers here and there.
Ingredients
1 pound onion — diced medium (I used about 3-4 small onions.)?
1 pound celery — diced medium?(I used about half of stalk of celery, but you can do a little less if your not big on the celery flavor.)
1/2 pound carrot — diced medium?(OK so I admit it, I cheated! I bought a 1lb bag of pre slice carrots and used half of it. But you can totally chop the carrots your self if you prefer.)
1/2 pound leeks — sliced 1/2″ thick?(I used 2-3 leeks
4 ounces butter
3 ounces roasted garlic puree (So I couldn't find roasted garlic puree anywhere. If you want to you can roast your own garlic and then puree it, and more power to you if you do! But again I cheated, I bought a jar of chopped roasted garlic, usually found but the whole garlic in the produce section, and then just pureed that.)?
1/2 gallon beef stock
1 1/2 pounds Prime rib — medium dice
1/2 (1 Tbs) ounce kosher salt
1/2 (1 Tbs) ounce black pepper
1 tablespoon dried oregano
1 tablespoon dried basil
1/2 teaspoon crushed red pepper
8 ounces precooked barley (My family really likes barely so we used 16 ounces. I mean if a little is good a lot must be better right?)?
3 fluid ounces red wine
Method
Before I begin cooking I like to get all my chopping out of the way. So the first thing I did was to chop up my leeks, celery, onions, and carrots.
Then I took my jar of chopped roasted garlic and my little mini processor…And processed the garlic until it was a totally pureed.
 Now I bought a bone-in prime rib, so I had to de-bone and trim the prime rib (you absolutely do not need to buy a bone-in piece of prime rib, if you want to be a bit more budget conscious you can use a rib eye steak, or even a strip steak).

Whether you are de-boning, or just trimming and cutting your steak, make sure you have a good sharp knife, and keep your fingers out of the way. And just in general be careful.
 Now if you do buy a bone-in prime rib don't through away that bone! That's all flavor right there! You can throw it in pot when you put in the chunks of prime rib and just fish it out before you serve up the soup.

In a large saucepot, heat the butter until fully melted.
Add the onion, celery, carrot, and leeks and sautee until tender, about 6 ?to 7 minutes over medium heat.
Add the red wine and scrap the bottom of the pot, and reduce the wine by 3/4. This takes about 10-15 minutes.
Add the beef stock, puree of roasted garlic, meat, (bone if you have one), and spices. Cook together for 1 1/2 hours or until the flavors have blended together.
While the soup is cooking you can go ahead and cook the barely based on the package instructions. And then add  pre-cooked barely once the soup has been cooking for 1 1/2 hours.
Allow the soup to cook for another 5-10 minutes just to allow the barely to heat up and let all the flavors blend together.
 Congratulations, you just made beef barely soup from scratch!
 Now dish up your soup add a nice big piece of some crusty bread and enjoy!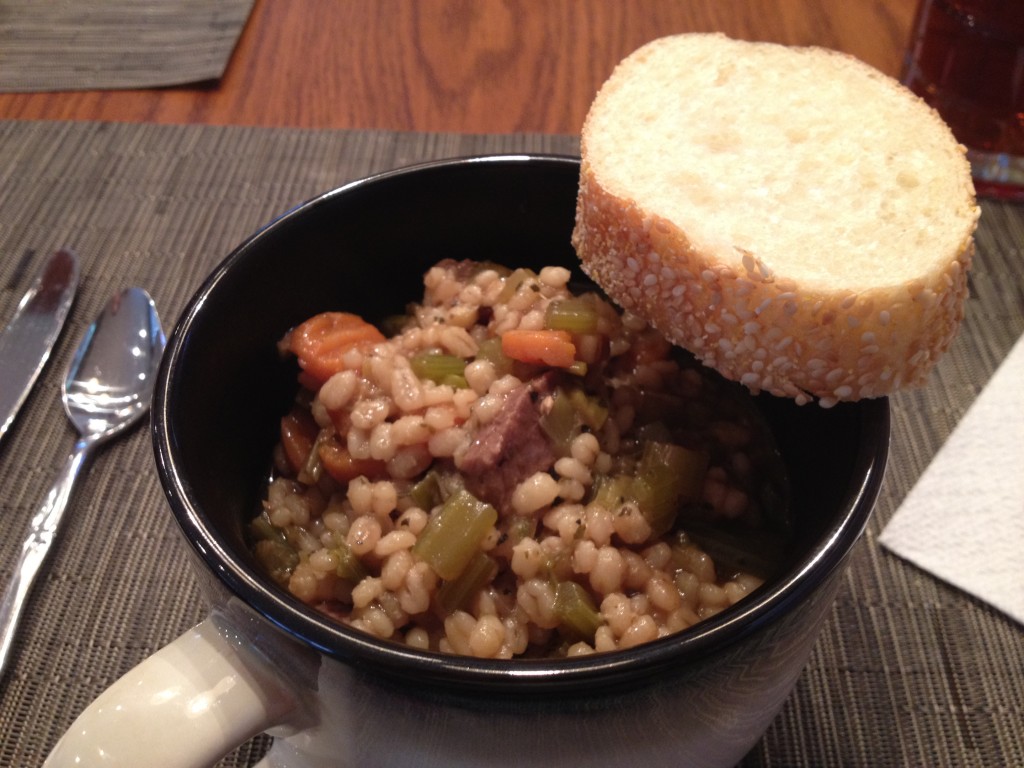 See now anybody can be a Disney chef! I hope everyone enjoys this recipe as much as my family and I did! Feel free to send me any comments, questions, or feedback. I look forward to hearing from you! Have a magical meal!
Written by Meghan Blair, the "Disney Foodie" — As a Florida Resident, Meghan combines her love of Disney and her love of food! She will give you the best restaurant and dining tips and suggestions to make your meals, just as magical as the rest of your vacation! Book your next vacation with Meghan at 954-328 7090 or meghan@destinationsinflorida.com.