Last week our trivia question was:  "How Tall is the Disney's Hollywood Studios Hollywood Tower of Terror and Why"
I find the answer to this one very interesting as the tower is exactly 199 feet high.  The reason for this is if it was 200+ feet tall it would require a beacon to warn airplanes.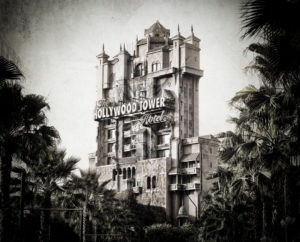 The winner of this trivia question will win a New Fantasyland Lithograph and the winner is:
Matt Karnath
Matt, please email me at angelas@destinationsinflorida.com to claim your prize!  As always, if you didn't win, have no fear!  A new trivia question will be posted today!
Congratulations Matt!
Written by Angela Spurgeon, also known as "TriviaTink" — Angela is an expert in planning Disney & Orlando vacations.  She specializes in traveling with toddlers.  Book your next Disney & Orlando vacation with Angela at angelas@destinationsinflorida.com.