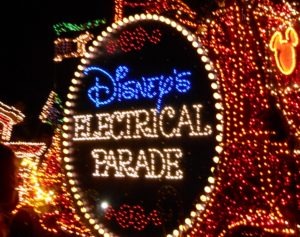 The Main Street Electrical Parade has been one of my favorite Disney attractions ever since the first time I saw it. Watching the faces of my children as the colorful floats with sparkly lights approached our little section of the curb at the Magic Kingdom is one of my fondest Disney memories. The opening announcement: "Ladies and gentlemen, boys and girls, Walt Disney World proudly presents our spectacular festival pageant of nighttime magic and imagination in thousands of sparkling lights and electro-synthe-magnetic musical sounds. The Main Street Electrical Parade!" still brings a tingle down my spine and usually a sentimental tear down my cheek.
The parade route begins next to the Fire Station on Main Street, heads down Main Street, U.S.A., goes around the Plaza in front of Cinderella Castle, through Liberty Square, and through Frontierland.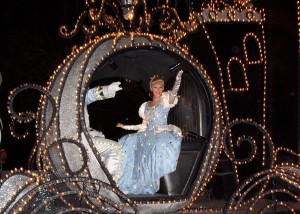 It features huge brightly lit floats, smaller twirling ones and live performers adorned with thousands of electronically controlled lights and a synchronized soundtrack called the "Baroque Hoedown" originally written in 1967 by Jean-Jacques Perrey and Gershon Kingsley.  The LED technology has been integrated to produce brighter colors using less power.  It's interesting to note that the route is divided into zones between 70 and 100 feet long.  Every person watching will hear float-specific music and experience the same show no matter where they are along the parade route.
Spectacular floats include:
Alice in Wonderland
Pinocchio
Cinderella
Pete's Dragon Elliott
Snow White and the Seven Dwarfs
The wildly popular Main Street Electrical Parade ends with an American tribute featuring dancing patriots and a huge majestic eagle decorated in shimmering lights.  Make sure you add the night-time parade to your list of must-see's in the Magic Kingdom!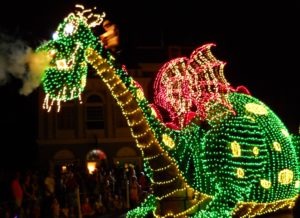 Written by Sheri Morris, "Main Street Morris" — Sheri is proud grandmother with a keen eye for detail. She specializes in Disney Travel for adults and RV travel.  Book your next vacation with Sheri at 804 405 5005 or at sheri@destinationsinflorida.com.