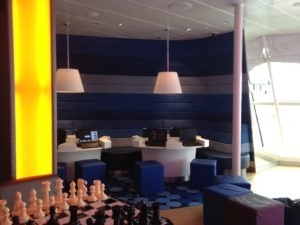 Edge is the youth activities area for kids 11 to 14. Kids can play videogames, watch television, participate in arts and crafts, sing karaoke, go on scavenger hunts and much more. Operating hours vary but the club is normally open from 9am-midnight. Make sure your child goes to Edge the first day of the cruise. All of the kids get together and decide what activities they are going to do the rest of the cruise on the first night.  The youth counselors help kids start making friends by putting them in groups based on their age and interests. One of the most unique Edge experiences on the Disney Magic and Disney Wonder is the navigaton simulator. The simulator has interactive buttons that lets kids navigate a virtual ship in and out of various ports of call.  To make the experience even more realistic, LCD "windows" enable kids to scan the bridge, thanks to a live video feed from the actual bridge.  The Disney Fantasy and Disney Dream have green rooms where kids can star in their own television broadcast.  I tried out the green room during open house.  I had way too much fun pretending to be a tv news anchor reporting on breaking news from the Disney Dream.  Here are some of the other activities youth can find in Edge:
That's Hilarious- Our counselors will transform you into Improv comedians while you learn      the basics of Improv, movie scene interactions and comedy games just like the stars of the Disney Channel hit, So Random!
Ghost Voyagers- The ship is passing through mysterious waters of history and legend. Strange occurrences have happened to several passengers in the past. Equipped with state-of-the-art ghost-hunting gear, it's up to the "Ghost Voyagers" to solve the mystery.
Pizza Perfection- Answer trivia questions to win pizza toppings and create the perfect pizza. After the game is over, the pizzas are cooked and shared by all.
A Pirate's Life for Me- Arrr you pirate enough? Compete in physical challenges and answer trivia questions about ye olde time scalawags and buccaneers in this game to see who will claim the infamous pearl.
Written by Shante Carson — Shante is a Disney Cruise Expert with over eight cruises taken on the Disney Dream, Disney Wonder, and Disney Fantasy.  Bon Voyage!  Shante is ready to help you plan your magical Disney Cruise vacation. Book your next vacation with Shante at 252-917-0497 or shante@destinationsinflorida.com.