This week, let's visit our nation's capital for a truly one-of-a-kind vacation!  This 8 night/7 day Adventure by Disney will take your family through the amazing history of our country, in Philadelphia, Washington, D.C.,  Monticello and Gettysburg.
Your family will tour Philadelphia by trolley, visit Independence Hall and see the Liberty Bell.  From Philadelphia, your family will head off to Washington, D.C., where you will have lunch in the heart of the city.  After which you will kayak on the Potomac River.  Seriously!  Can you imagine, gliding down the Potomac in a kayak with a privately guided tour?  Amazing.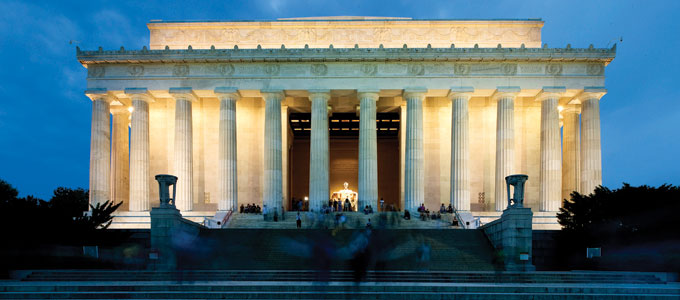 You will also visit the Iwo Jima Monument, Arlington National Cemetary, and witness the change of the guards at the Tomb of the Unknowns. Then spend a day at Monticello.  This 5,000 acre plantation was Thomas Jefferson's home.
Then on to Gettysburg.  At the visitor's center at Gettysburg National Park, see A New Birth of Freedom, a film with award-winning actors that depicts the historic battle that heralded the end of slavery. Afterward, marvel at the breathtaking cyclorama painted by the French artist Paul Philippoteaux in the late 1880s depicting the Battle of Gettysburg. The cyclorama's recent restoration was the largest conservation effort of its kind in North America.  Then you will discover the history of the city with a costumed guide- learning what life was like in Gettysburg.
Immerse yourself in the life and lore of George Washington at his 8,000-acre plantation on Mount Vernon. Your family will discover Washington's architectural achievements, enjoy the vibrant gardens and learn the details of 19th-century life as you browse the estate's extraordinary curatorial collection.
To book this or any other Adventure by Disney, contact Diana at diana@destinationsinflorida.com today!
Written by Diana Edgar — Diana is an Adventures by Disney Expert on United States trips and around the world.  Are you ready for that once-in-a-lifetime vacation?  Diana is ready to help you plan your magical Disney vacation. Book your next vacation with Diana at diana@destinationsinflorida.com.