I love Hollywood Studios,  It has amazing rides such at Star Tours, The Great Movie Ride, Toy Story Mania, and of course a Ride on the Elevator of the Hollywood Tower Hotel.   I have based this weeks trivia on the Hollywood Tower Hotel!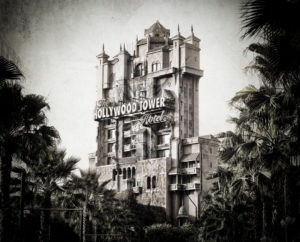 For this weeks TRIVIA CHALLENGE, please put your answers into comments below and we will pick a winner that will be announced on Monday April 15th.  This contest will be open until Saturday at 6PM ET.
Please fill in the blanks of the sentence below:
In Disney's Hollywood Studios, the Hollywood Tower Hotel is EXACTLY ________ feet High,  This is because _______________________________________.
Remember, put your answers in comments below!  Answers must be submitted by Saturday at 6PM ET.  Good Luck!!!!
Written by Angela Spurgeon, also known as "TriviaTink" — Angela is an expert in planning Disney & Orlando vacations.  She specializes in traveling with toddlers.  Book your next Disney & Orlando vacation with Angela at angelas@destinationsinflorida.com.