Even babies can join in on the fun on a Disney Cruise!  Children ages 3 months to 3 years have their own special play place on Disney Cruise Line.  Flounder's Reef Nursery offers lots of fun activities on the Disney Magic and Disney Wonder. Flounder's Reef Nursery has an under the sea theme from the movie, The Little Mermaid. It is divided into two rooms (one for play and one for relaxation).  Flounder's Reef Nursery has infant swings, rocking chairs, lots of toys, a small slide playset, and tv that plays videos of Little Einsteins, Mickey Mouse Clubhouse, the Wiggles, etc.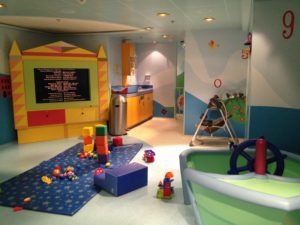 It's a Small World Nursery is on the Disney Dream and Disney Fantasy. It's a Small World Nursery is inspired by the Disneyland attraction.  It's a Small World Nursery has three areas: an acclimation zone, a main play area, and a separate room for naps. Each nursery is available at an additional charge of $6.00 per hour for the first child and $5.00 per hour for each additional child in your family.  Parents can relax and enjoy their cruise knowing that their little ones are in good hands.  There is 1 counselor for every 4 infants or 1 counselor for every 6 toddlers. Hours vary but the nursery can be open as early as 7:30am and as late as 12 midnight.  Disney Cruise Line encourages guests to make reservations in advance to make sure the nursery has space for your little one.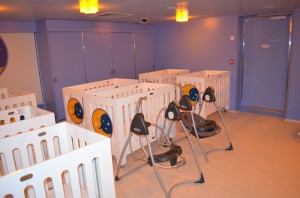 Reservations can be made online up to 120 days in advance for Concierge and Platinum Castaway Club Guests, 105 days for Gold Castaway Club Guests, 90 days in for Silver Castaway Club Guests, or 75 days in advance for First-Time Cruisers. The nursery will accept walk ups or last minute reservations on a space available basis. Cancellations may be made without penalty up to 4 hours in advance of reservation. Family Time is also available.  During Family Time families can come play together in the nursery.
Make sure you are prepared before you drop off your child.  You will need to bring your own diapers, wipes, bottles and milk or formula, sippy cups and jars of baby food.
Written by Shante Carson — Shante is a Disney Cruise Expert with over eight cruises taken on the Disney Dream, Disney Wonder, and Disney Fantasy.  Bon Voyage!  Shante is ready to help you plan your magical Disney Cruise vacation. Book your next vacation with Shante at 252-917-0497 or shante@destinationsinflorida.com.