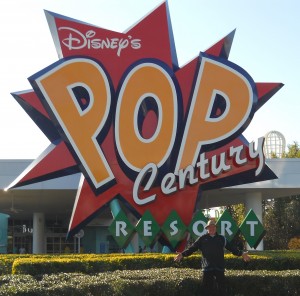 When approaching Pop Century, you might just say "WOW"!  This value priced resort is bright and colorful.  Each section has a theme that represents a decade from the 1950's through the 1990's.  All ten buildings have a huge nostalgic icon that's perfect for taking pictures.  The lobby features big shadow boxes that contain memorabilia from different decades.  It's fun to look and possibly recognize an item that your parents or grandparents had!  There is also a cute little lounge with a TV showing Disney Cartoons.  Pop Century features a huge game room and three swimming pools.

The check in desk located in Classic Hall is friendly and efficient.  The buildings are T shaped with an elevator at the center.  Ice and drink machines are centrally located.  You can take a short walk to the Art of Animation Resort by following the Generation Gap Bridge over Hourglass Lake.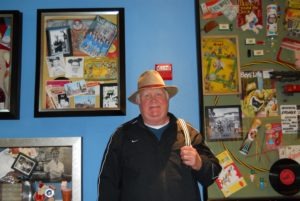 Everything Pop food court area features a great selection of fresh, delicious meals.  Favorites are the "Mom's night out" TV dinner, the POP waffles and the tie dyed cheesecake.  The food court can become congested, particularly during breakfast hours.  The large gift shop has a great assortment of Disney merchandise.
The rooms at Pop Century are fairly small but adequate.  They are clean and cheery, featuring a bath with a separate vanity/dressing area and privacy curtain. The resort was recently renovated with carpet, linens and color schemes.  Modern LCD televisions and small refrigerators were added as well!  Wi Fi is complimentary.  The housekeeping staff is great.  They sometimes leave cute towel animals for your kids!
Park transportation at Pop Century is one of the best.  Many other resorts have several bus stops but this one has one centrally located stop.  It works very well, especially with small children.
Although Pop Century lacks some of the amenities of Disney's more expensive resorts, it is a fun resort experience.  Families will love all of the Disney magic and the convenience of staying onsite at a price that won't break the bank!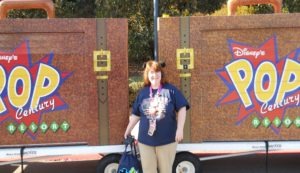 Written by Sheri Morris, "Main Street Morris"    Sheri is proud grandmother with a keen eye for detail.  She specializes in Disney Travel for adults and RV travel.  Book your next vacation with Sheri at (804)405 5005 or at sheri@destinationsinflorida.com.