Bonjour! Welcome to Paris, the city of love, and the location of the next stop on our tour of most romantic dining spots in Walt Disney World. Ok, you got me, we're not actually in Paris, but the food and the atmosphere of Monsieur Paul will surely make you feel like you are dining in a quintessential French Bistro. Located in the France pavilion in Epcot, the entrance to Monsieur Paul can be a little tricky to find. Once you enter the pavilion you must walk all the way around Chefs de France, the other restaurant in the pavilion, before you reach a small, residential door adorned with a Bistro sign and menu. Then, you enter into a deep red-carpeted lobby with an art nouveau staircase that will lead you up to the restaurant. The dining room truly captures the romance and sophistication of classic French architecture with bright colors and a touch of modern design. The low ceilings and quiet ambiance create the perfect spot for an elegant and intimate dinner for two.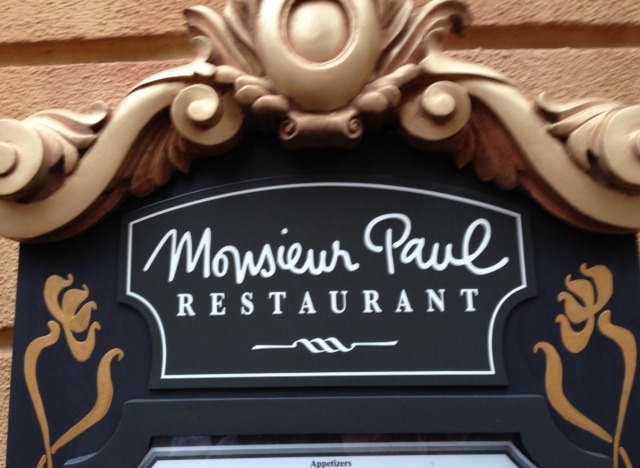 Monsieur Paul offers the traditions of French classical cuisine, created with the freshest ingredients, served at the perfect temperature, and prepared with just the right seasonings.
Menu items at Monsieur Paul may include such decadent items as black truffle soup, Lobster a l'Americaine, Herb-crusted rack of lamb, Grand Marnier soufflé, and Triple chocolate cake. At Monsieur Paul you will be sure to enjoy the classic dishes and techniques of French fare, all while being made with the freshest local ingredients.
Monsieur Paul is the perfect place to indulge in a glass of wine, they boast a superb wine list that features French wines from some of the most celebrated wine regions, like Southern France, Bourgogne and Bordeaux.
As being one of the few Epcot restaurants located on the second floor, Monsieur Paul offers you a unique vantage point of Epcot. As is true with all restaurants in Disney window-side tables are based on a first-come, first-served basis. If you schedule your dinner around 9pm and are lucky enough to get a window-side table that faces the World Showcase Lagoon then, you will be able to enjoy your meal while experiencing Epcot's nightly fireworks show, Illuminations, Reflections of Earth.
Dinner at Monsieur Paul ranges in price from $36 to $59.99 and they do accept the Disney dining plan. To ensure you get a table, remember to make reservations up to 180 days in advance.
Only one more restaurant on my list of the most romantic dining spots in Walt Disney World! Any guesses of what will be number one on the list!?!
Written by Meghan Blair, the "Disney Foodie" — As a Florida Resident, Meghan combines her love of Disney and her love of food! She will give you the best restaurant and dining tips and suggestions to make your meals, just as magical as the rest of your vacation! Book your next vacation with Meghan at 954-328 7090 or meghan@destinationsinflorida.com.