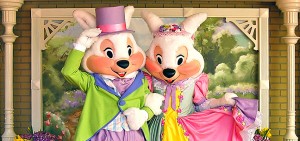 Spring has hit Disneyland and there are some new Limited Time Magic. Disneyland Spring Fling begins today through March 31st.
Time to get hoppin' when a well known floppy-eared friend arrives. You can visit the Easter Bunny in the Town Square on Main Street, U.S.A.  Of course you'll be able to pose for pictures when visiting.
Head over to Disney California Adventure park for an Easter Egg Hunt. Russell and Dug have hidden oversized Easter eggs throughout Redwood Creek Challenge trail. There are clues to follow and puzzles to solve all to help you earn your very own Spring Egg-tivity Badge!
With all the Limited Time Magic at Disneyland this year, it's the Year of the Ear. During the Disneyland Spring fling you can find and get your own Oswald The Lucky Rabbit ear hat. Check into Oswald's Service Station in Disney California Adventure Park. Get there early so you can get yours!
Lastly, make sure you keep an eye out for a special bunny hop dance on Main Street, U.S.A. starring the Easter Bunny and friends, including the Dapper Dans, Mickey Mouse and Minnie Mouse!
I hope this information has been helpful and fun. Contact me to plan your own trip to Disneyland Spring Fling, or any time you're ready to visit!