The Galapagos Islands are located in the Pacific Ocean about 1,000 km from South America have been called 'living museum and showcase of evolution'.  This isolation of these islands have led to the development of some unusual animals.  Adventures by Disney will give your family a vacation that you will never forget in the Galapagos Islands!
On Fernandina Island, you will join a naturalist  and visit one of the largest populations of native marine iguanas, then hike over the lava flows and see the flightless cormorant, one of the world's rarest birds.
Swimming with sea turtles and sea lions awaits you on Isabela Island!  Check out the wildlife in the saltwater lagoons and explore caves that are inscribed with names of pirates and whaling vessels from the 1800s.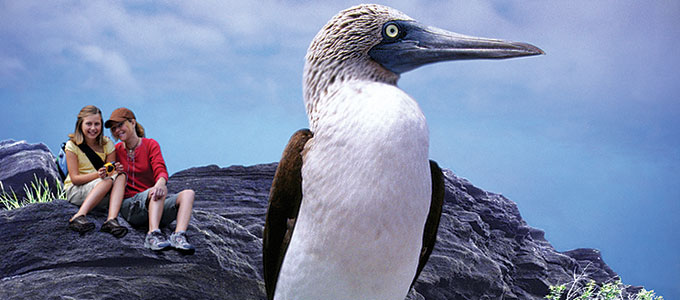 View penguins, manta rays, sea turtles and sea lions on Floreana Island and visit the historic post office.
On Santa Cruz Island, you will have a guided visit of Los Gemelos, two volcanic craters where giant tortoises roam.  Then watch for Darwin's woodpecker finch and the vermillion flycatcher in the Highland's Scalesia Forest.
Your family will encounter giant tortoises and sea lions alongside an array of fascinating wildlife on San Cristobal Island.
Adventures by Disney is heading to the Galapagos Islands December 27, 2013- January 5,2014.
Book your amazing Adventure by Disney with Diana today!
Written by Diana Edgar — Diana is an Adventures by Disney Expert on United States trips and around the world.  Are you ready for that once-in-a-lifetime vacation?  Diana is ready to help you plan your magical Disney vacation. Book your next vacation with Diana at diana@destinationsinflorida.com.