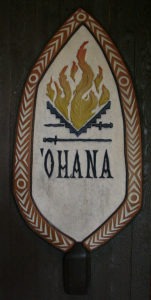 Mid-week of our anniversary trip to Walt Disney World, we experienced the most unforgettable meal of our lives…'Ohana at Disney's Polynesian Resort!
'Ohana (meaning Family) was an unlikely choice for our anniversary celebration dinner.  This sought out restaurant is well known for never ending skewers of meat, lots and lots of meat.  We were following a vegetarian diet!  It's also known as a bustling place with kids playing limbo in the middle of the floor, having races, shaking maracas.  Not exactly a relaxing and romantic atmosphere!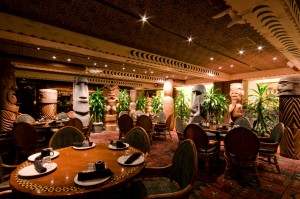 In spite of it all, we shared an incredible meal that we will never forget because we planned ahead.  When making our dining reservations, we indicated our dietary preference.  After being seated with our "Welcome Bread", we had a visit from the Chef.  He asked us questions about the types of food we liked and asked us to trust him to prepare our meal.
What followed was a 7 course vegetarian meal, fit for a king!  We feasted on bread, salad, soup, hummus, noodles and veggies, including bok choy, swiss chard and fried tofu.  Oh, the words sound so ordinary but trust me, each was incredible.  The special sauces and seasonings were culinary delights that teased our senses!  The centerpiece of our dinner was a feast in itself.  It presented as a huge mound of crispy rice noodles topped with fried asparagus and marinated tofu.  Underneath, were rice and vegetables in a delicate peanut sauce with just the right tang.  Dessert was the traditional Hawaiian Bread Pudding that 'Ohana is famous for.
The evening was made complete when we were serenaded and presented with leis followed by a dance especially for us to celebrate the anniversary of our marriage.  I can't promise that you'll have the same experience as we did but I guarantee that you will have a meal to remember when you dine at 'Ohana!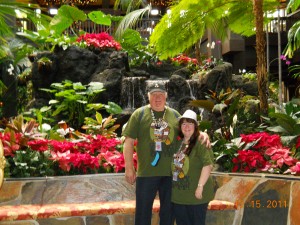 Written by Sheri Morris, "Main Street Morris" —
Sheri is proud grandmother with a keen eye for detail.  She specializes in Disney Travel for adults and RV travel.  Book your next vacation with Sheri at 804-405-5005 or at sheri@destinationsinflorida.com.