My first trip to Disney World back in 1986 was multi generational.  It included my parents and children as well as other family members and my boss who was like a grandfather to me.  There were ten of us.  Since I was the "designated planner" of the group, I was put in charge of setting up the trip.
Fortunately, we used a travel agency that was very helpful.  They gave us information and recommended some books for me to read.  I devoured the information and soon learned that planning ahead is key for a successful trip.  Little did I know, that one day I would be planning magical Disney Vacations for families just like ours.
Today, I'm sharing with you some of my best tips for a perfect vacation that includes the young and old.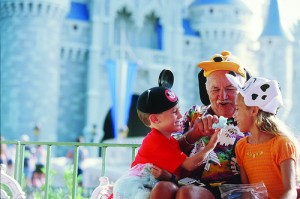 Be flexible!  Don't plan so much that you're disappointed if things don't go according to schedule.  Accepting the fact that things might will happen to alter your schedule can save a lot of stress.
Plan to stay at a Disney Resort Hotel.  There are so many reasons to stay on Disney property but the main one is convenience.  By staying on Disney property, you will be close to everything, saving you time and headache!
Arrive at the parks early!  This is important to avoid crowds and the heat.  Pace yourself and don't try to do it all!  Be sure to drink plenty of water.
Schedule a character meal. It's so much fun to dine with Mickey and the gang! The bonding time and sweet memories are well worth the cost.
Take a mid-day break!  This is one of the most important things you can do, especially with little ones and old folks.  Get out of the heat and enjoy the pool or take a nap.  Take time to refuel.
Watch the parade and fireworks.  The epitome of a Disney day!  There's nothing better than to watch the smiles as you enjoy the wonder of it all.
Take pictures and use Disney's PhotoPass Service. This will let you take home memories that will last a lifetime!
Written by Sheri Morris, "Main Street Morris"   Sheri is proud grandmother with a keen eye for detail. She specializes in Disney Travel for adults and RV travel.  Book your next vacation with Sheri at  (804) 405 5005 or at sheri@destinationsinflorida.com.