Blue Bayou!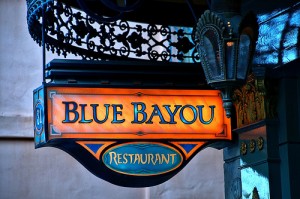 I realized I speak of Blue Bayou with my friends a lot. I figured if I was going to mention it so often I should give my whole opinion here instead of sporadically to just my friends and strangers. It's really far too easy to get me talking about Disney related anything…
You should know that I eat at Blue Bayou pretty much every time I visit Disneyland. Just as an FYI when I visit Disney World I almost always eat at 50's Prime Time Cafe…  Just a splash of information for you that has absolutely nothing to do with this piece. You're welcome!
There's a good reason why I almost always eat here. In my opinion it's the best food in the park. Also, I love the fact that I get to watch Pirates of the Caribbean boats floating by. You are sitting "outside" at perpetual twilight, no matter what the actual time of day is outside. While you are surrounded by the sounds of the Louisiana Bayou… and the frogs, crickets and fireflies don't actually bother you… Hint: They aren't real… Shhh don't tell…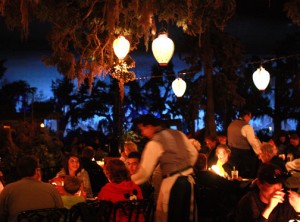 The food offerings are some of the best in the park. They have such entrees as:
Seafood Jambalaya
Beef Short Ribs
Roasted Beef Strip Loin
Filet Mignon
Crab Cakes
Tesoro Island Chicken
Surf and Turf
Every meal comes with either a Cajun inspired salad or the signature New Orleans Gumbo. I always get the Gumbo! While you may find better in New Orleans, you will not find better anywhere else on the West Coast of the USA…
There are a few desert options as well such as Crème Brûlée, Ice Cream, and Chocolate Cake. I'm usually too full to eat desert at the restaurant. Let's be honest there isn't a shortage of sweets in Disneyland now is there? I recommend heading to Gibson Girl Ice Cream Parlor.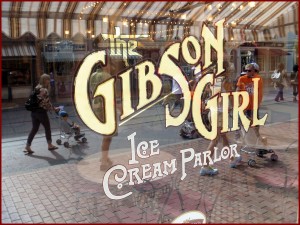 As my 7 year old son says, the "Blue Bayou is a place where in the movie it says there are alligators. One nice one and the rest are mean. And this is how it goes, there was a girl and Prince who turned into frogs. They fell madly in love and some people helped them to realize their dreams." I'm not fully sure that helps sell this restaurant but he made me put it in…
As you can see from the pictures and menu, there aren't many things to dislike about Blue Bayou. Perhaps the biggest issue with the restaurant is that there aren't enough tables! If you want to eat at Blue Bayou I recommend calling as soon as you know you're going or as soon as they open up the booking window (60 days prior) for your trip timeframe. You'll be disappointed if you miss out, trust me.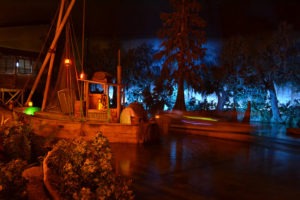 I hope you find this information fun, new and worthwhile.
Written by Daniel Mullarkey, DisneyDaniel — Daniel is a self-proclaimed Disney Geek, Disney Vacation Planner and a Disney Specialist! When he's not adding to the plethora of Disney trivia in his head, you can find DisneyDaniel on his Facebook Page and/or follow him on Twitter!  Book your next vacation with Daniel at 425-420-8988 ordaniel@destinationsinflorida.com.