Of course, we took our kids to Disney World!  It is, no doubt, one of the most popular vacation destinations in the United States.  Although they are now grown, we keep going back, over and over again.  Our friends and family that "just don't understand" wonder why?
It makes sense to associate Disney World with children.  There's the Castle, the Carousel, the Voyage of the Little Mermaid, the Princesses, the Seas with Nemo, the Dumbo ride, It's a Small World, Journey Into Imagination, the Festival of the Lion King, and of course, Mickey Mouse!
What our friends don't understand is that there is so much to see and do…for kids of all ages.  There's a whole 'nother world out there when you view it with mature eyes.  Even after more than 20 week long visits, we still haven't seen it all and even if we had, we'd want to see it all over again!
It's been said that those of us who have been going for many years are aging with Disney, thereby adjusting our expectations of a Disney trip.  How true.  No longer do we get up and rush to the parks unless we want to.  There's no longer a need to ride everything on every trip.  We stroll leisurely and enjoy the scenery.  Our resort hotel is a beautiful haven and our backyard features an awesome pool.  Our dining choices are limitless and Disney offers a vast array of shows and entertainment that changes regularly, so there's always something new.
So, we take our time and smell the roses, because we can… Oh, ROSES!  Did I mention that Epcot's 20th International Flower and Garden Festival is coming up March 6 through May 19?  Hmm…I think I "smell" another Disney Vacation!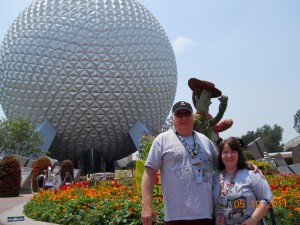 Book your Disney World Vacation with Sheri Morris.  Sheri is a proud grandmother of 3 with a keen eye for detail.  She specializes in Disney Travel for Adults and works tirelessly to ensure that her guests have the best vacation experience ever! Contact her at (804) 405 5005 or email sheri@destinationsinflorida.com to book your stress-free Disney vacation.