Rotational dining is one of the many experiences unique to Disney Cruise Line.  Each evening, you and your wait staff rotate to one of the 3 main dining restaurants.  Each of the restaurants on the Disney Dream has its own touch of Disney magic to make your dining experience special.  Royal Palace is an elegant restaurant designed for all of the princes and princesses onboard.  The room transforms before your eyes in Enchanted Garden as flowers bloom and the ceiling changes from a beautiful blue sky to a starry night in Versailles.  Animator's Palate will bring out your inner child as you get a chance to ride the EAC with everyone's favorite sea turtle, Crush.  On the 3-Night Bahamian Cruise you will eat at each of the restaurants.  On the 4-Night Bahamian Cruise you will repeat one of the restaurants but the regular menu will be replaced with a pirate themed menu in line with the Pirate Night activities.  Here are my picks for the best food the Disney Dream has to offer: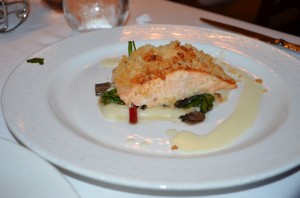 Royal Palace:  The Salmon Royale and the Prime Rib are both very good.  I tried to be adventurous the first time I went to Royal Palace by getting the Pomegranate Glazed Duck Breast.  It was a little too gamey for my taste.  If you decide to splurge for dessert then Royal Palace is the place to do it.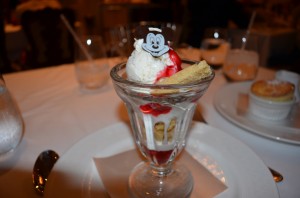 The Grand Marnier Soufflé and Strawberry Short Cake Sundae are both must haves.
Enchanted Garden:  The Caramelized Sea Scallops are heavenly.  The Roasted Pork Tenderloin is also good but it doesn't hold a candle to the scallops.
Animator's Palate:  One of my favorite dishes on the Disney Dream was the Black Truffle Pasta Purseittes.  You can order this as an appetizer or an entrée.  The Cookies & Cream Sundae is a very good ending to a great meal.
Pirate Night:  Every restaurant has the same menu on Pirate Night. Start your Pirate Night dinner with some Johnny Cake and Black Beard's Jumbo Crab Cake.   Follow that with Jack Sparrow's Barbecue Marinated Beef Short Ribs.  Make sure you save a little room for the late night buffet in Cabanas.
Written by Shante Carson — Shante is a Disney Cruise Expert with over eight cruises taken on the Disney Dream, Disney Wonder, and Disney Fantasy.  Ready to sail away with Captain Mickey?  Shante is ready to help you plan your magical Disney Cruise vacation. Book your next vacation with Shante at 252-917-0497 or shante@destinationsinflorida.com